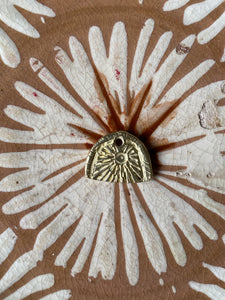 Radiance, divinity, knowledge - These attributes of the sun, our life-force, inspired the design of this pretty charm. 
Handcrafted in clay and then cast in bronze. A great addition to a set of charms or a simple piece to wear on its own! Available à la carte or on a gold-filled chain.
Care instructions: Bronze, brass and silver naturally oxidize over time and can be removed with a polishing cloth or mild soap and warm water. To delay oxidation, keep your TPL jewelry away from moisture, shower steam, and other water activities. And when you're not wearing your jewelry, store it in a sealed bag.